Description
CPA Ferrere and Automation Anywhere are witnesses to the banking sector's constant evolution and the growing global demand for process automation using robots/artificial intelligence. This advantage led us to partner and create a specific product/service for the financial sector, a mix of our methodology and Automation Anywhere's technology, allowing us to accompany banks in implementing Robotic Process Automation.
Robots or bots, as they are also known, are software that automatically performs tasks, replicating the actions of a human being noninvasively with the user interface of an IT system without affecting base applications.  Robotic process automation is really useful in scenarios involving, for example:
Repetitive tasks
Large volumes of information
Lengthy executions
Business rules-based processes
Some of the actions bots can perform are: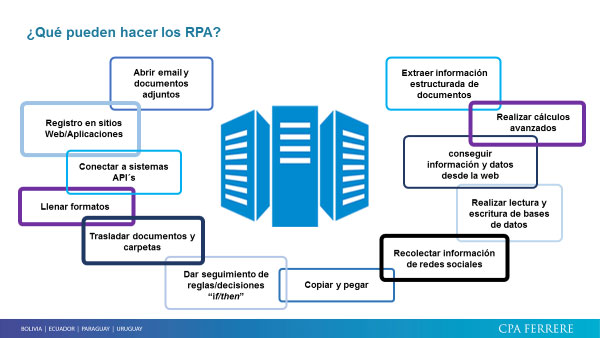 Implementing an RPA has these benefits:
Bots can execute tasks precisely, 24×7, increasing processing and reducing your costs (ROI Optimization).
They standardize and optimize processes, improving quality and eliminating human error, with an interesting reduction in costs.
Redirecting the labor force to more creative and challenging activities/tasks, with more value added, optimizing personnel time, eliminating routine work, and putting the focus on client-centered business processes and/or triggering strategic initiatives. They can also redirect time toward developing new competencies to perform tasks affording greater value added.
Automated processes improve data quality and consistency, which leads to improvements in analysis time and in income.
RPAs involve a short time for return on investment and can be implemented with low integration costs.
Access to information is generated in known and friendly formats. Unification of reports.
It makes it possible to deal better with peaks in transactional activity.
Opportunity to create complete auditing processes, reducing operating, business, compliance and regulatory risks.
RPA platforms are secure and can be easily audited and managed.
Why CPA Ferrere/Automation Anywhere?
Highly prestigious companies recognized in different markets
Commercial and marketing support
Training and support in the Spanish language
Products/services offered in hybrid format (semi-classroom)
Artificial intelligence platform with cognitive abilities, operating analysis and integrated business
Intuitive software, rapid scalability and in some cases optimized by users
Scalability, centralized controls and security
Some cases of use: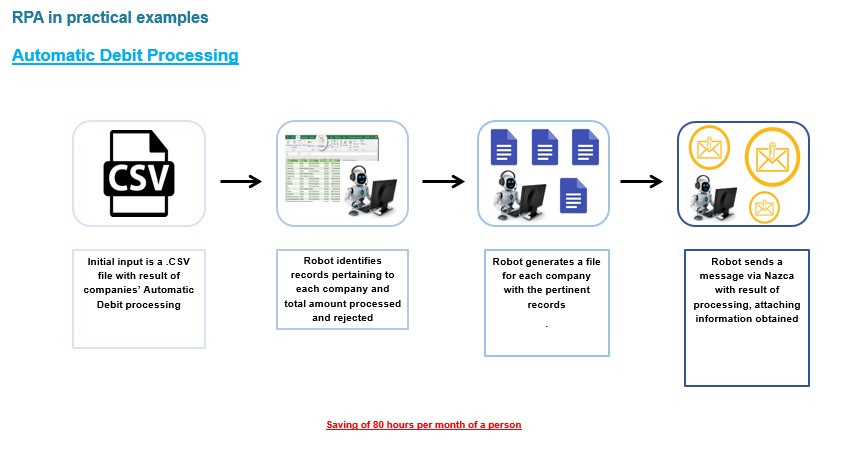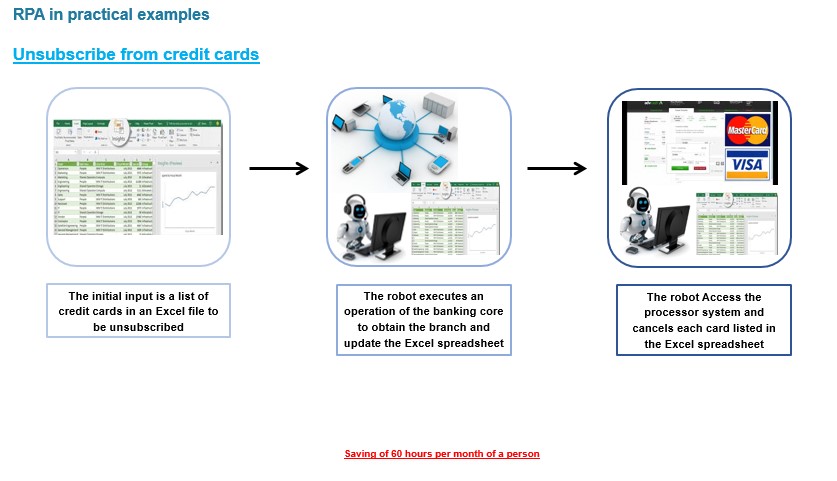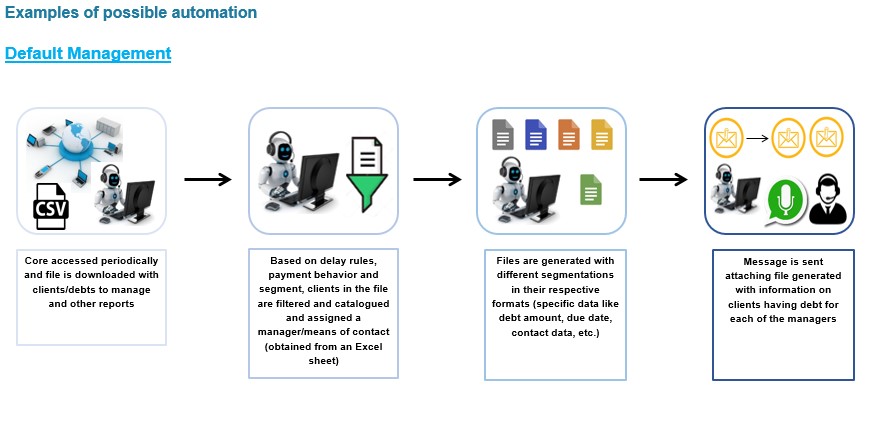 Some cases of success or examples of processes implemented:
More information